Rev. Nicole Losie, MOL, E-RYT200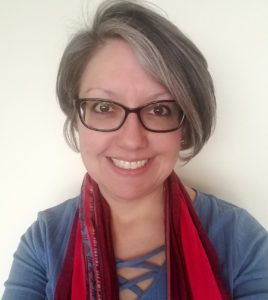 Rev. Nicole is the yoga instructor and Ordained Interfaith Minister at Presence Yoga. She began taking yoga classes in 2002 and became a student of yoga in 2003. Since that time, she has experienced such strength and happiness that she felt called to help others experience their own divine gifts. Nicole earned her 200 hour teaching certification from TRY4Life School in Cleveland, Ohio and began teaching hatha yoga in 2008.
Rev. Nicole creates a yoga session that begins with a centering activity, followed by gentle warm-ups to heat the body. The sequence then progresses to holding traditional yoga poses (asanas). Finally, Nicole guides students through a cooling period to calm the body and prepare for a guided relaxation (savasana), which ends the yoga class. The environment is one that fosters acceptance, comfort, stress reduction, and relaxation. Nicole uses soft lighting and music to compliment her voice as she carries students through the yoga session.
Rev. Nicole became an Ordained Interfaith Minister after studying at One Spirit Interfaith Seminary in Manhattan, NY. For two years, Nicole studied the world's religions, learning from pre-eminent teachers of the field. One Spirit holds Rev. Nicole's Assignment of Ministry.
Nicole also holds a Master of Organizational Leadership and a Bachelor of Arts in Early Childhood Education, both from Lourdes University in Sylvania, Ohio.
Feel free to contact Nicole anytime.